As an RVer, you know exactly what that smell is…but do you know where it's coming from? Maybe a neighbor is "dealing a royal flush"…or maybe, just maybe, it's emanating from your RV unbeknownst to you! Today, I will be discussing a real stinker of a topic: RV sewer hose solutions.
Many in the RV industry, including veteran RVers, dealerships and service centers, will tell you to keep black tank valves closed and gray tank valves open while you are using your RV. In my opinion, this is flawed logic and may lead to unwelcome sewer gas smells emanating from your RV, not to mention, the possibility of unwanted sewer flies that tend to breed in the sewer system at RV parks and campgrounds.
Follow with me on this…
Point 1: If your RV sewer hose is connected to the site sewer, with the correct downward pitch from your RV to allow for proper drainage, and your gray tank valve on your RV is open, then we can assume that your gray tank is empty.
Point 2: Your black and gray tanks aboard your RV all have vent tubes that run from the tank through the roof of your RV.
Add these two points together and you end up sewer gas odors from the sewer dump at your site having unobstructed access through your correctly pitched sewer hose, through your empty gray tank, through the vent tube and to the outside air above your RV. These smells drift down over your RV and waft around you and your neighbors RV sites.
Here are two RV sewer hose solutions to consider:
Solution 1: Keep all waste valves closed on your RV until they are around 3/4 full and then open them to drain. Always drain the black tank first. After draining the black tank, ideally you would do a black tank flush to remove any stuck or standing debris from the tank. After the black tank is empty, close it and drain the gray(s). This will ensure that your sewer hose get's a flush of non-black water to clear the line of any left over black tank "materials."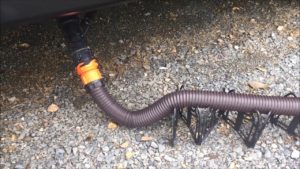 Solution 2: If you decide you want to leave them open, you should create a water trap (P-Trap) in your sewer hose to prevent the sewer gas odor from getting to your empty tanks. This option works well to stop the gases from travelling back up the hose and into/out of your RV, but sometimes the sewer flies still get through. Also, your hose may start to wear out at a faster pace where the waste water sits in the trap section of the hose. One other negative of this option is that over time, the seals in your valves will get gunked up because the blade of the valve isn't moving back and forth through it's grove to clear out any debris. This will deteriorate your valve seals faster and make it more difficult to open and close your valves, and will cause your seals to leak even with the valve closed. So, if you do choose to go this route, be sure to still operate the valves every couple of days just to give the seals a "wipe."
Choose either of these RV sewer hose solutions and your neighbors will appreciate the fresh air!
My RV Works, Inc. is always available to answer your RV lifestyle questions and offer best practices. Happy campers say "My RV Works!"